moodcase simplifies your work.
Upload your images in a flash, get feedback from the client and send the final images - all in one place - in moodcase.
Fastest image upload

Upload your images to moodcase super fast and easy via your web browser.

Image selection

Let your customers choose the best image and then export the list to your favorite program.

Share images

Deliver the final images in highres to your clients. Personal and professional.
Library
Manage all images in one organized place. Rate them with stars and colors. Organize them into collections and export the images chosen by your client to your favorite program.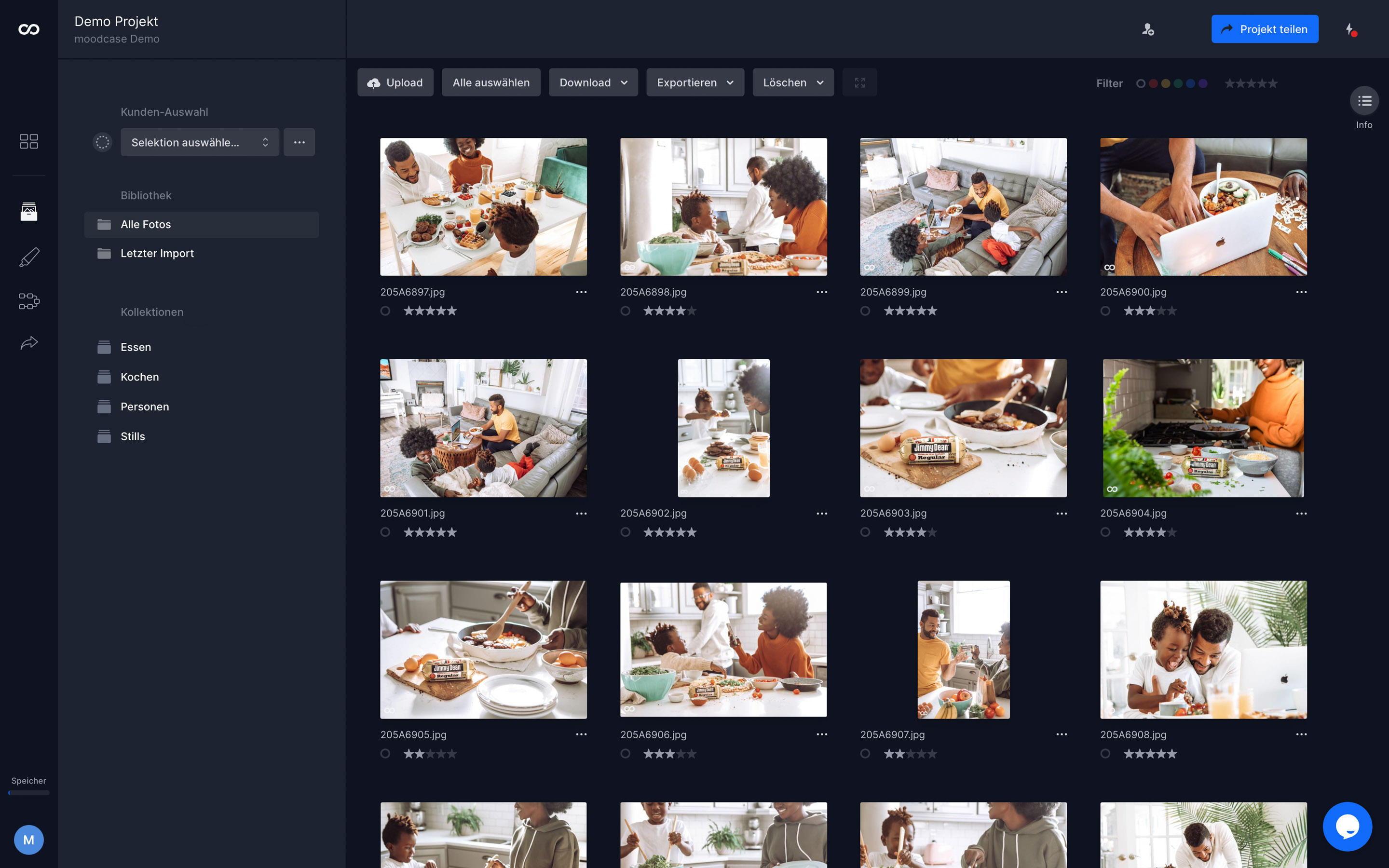 Collections

Organize the images into collections so your customer can find the images they want faster.

Ratings

Images can be rated by you and your client to quickly make a selection.

Metadata

See how large the image is or which camera you used to take the picture - and much more.

Notifications

Notifications show if the shared gallery has arrived and your client has already tagged or downloaded photos.

Color labels

Color labels give you many ways to separate and mark images.

Clients upload

Your client can also upload photos to you, if you allow it.

Data safety

Your data is in good hands with moodcase and it is hosted in the EU. The data centers are certified according to SOC 2 and ISO 27001.

Find any image

Search by projects, file names and keywords, incredibly fast.

Comments in one spot

No matter where you are in the app, you can add comments anywhere.
Customer selections
No file lists back and forth by email, no mistakes by manually picking the selected images. Your customer selects the images with one click. When the selection is complete, you will be informed. Import the customer selection into your image editing program.
Image selection

Your customer chooses the images by a single click. You will immediately see which one he has chosen. Once the selection is complete, you will be notified by email.

Export file list

Export the file list to Lightroom, Capture One, Photo Mechanic, Explorer, or Finder to edit the originals.

Digital delivery

Provide the edited images directly from Lightroom or Capture One to the client as finals.
Workflow
With the workflow module, you can easily collaborate on projects with your team. The Kanban board always gives you an overview. Drag and drop the cards into the desired column.
Kanban Board

Kanban boards are great for visually representing tasks. With the cards you always keep the big picture in mind.

Configurable views

Choose your favorite view. Whether identical sizes, portrait and landscape mixed or as a list view.

Drag and drop to change status

Simply drag and drop the cards into the next column, the status will change automatically.

To-dos at a glance

In the workflow module you can see at a glance where there are still open tasks. So you keep the overview.

Search and filter

If there are really lots of cards in the list, the search or a filter helps to find the desired card quickly.

Notifications of status changes

The in-app notifications show you status changes. Activity feed shows you in detail what has happened.
Review
Let your customers create markups directly on the photos. Comment and edit the requests according to the to-do list.
Comments

Comment corrections directly on the image. So that no changes are missed.

Markings

Draw a freeform shape by hand to show exactly what you mean.

Tasks

Keep track of which tasks are still open and which are already done.

Versioning

One version back? No problem, just restore the desired version. Or download for comparison.

Workflow status

Also keep track of large projects. The status shows whether the image is in review or already the final version.

Integrated notifications

Have the images already been reviewed or downloaded? Or has an image been marked with the label "reviewed"?
Galleries
Create beautiful galleries with the click of a button. With a few clicks you can give the gallery a personal touch, branded with your logo. Responsive design always looks chic, whether on desktop, tablet or mobile.
Responsive design

Whether mobile, tablet or desktop, galleries are optimally adapted to the space conditions.

Cover

Choose a cover image for the gallery and create an interesting entry.

Presets

With "Presets" you can create an appealing gallery with one click.

Custom domain

With your own domain you can give the gallery a professional touch.

Photo friendly layout

The layout always makes your images look good. The grids adapt to the images and not vice versa.

Password protection

You can password-protect galleries.
Integrations
The software integrations allow you to fully exploit the potential of moodcase. You eliminate steps and become even more efficient.
Adobe Lightroom Classic

Use the moodcase plug-in for Adobe Lightroom Classic to load photos directly into your desired project and re-import the images selected by the client. Without leaving Lightroom.

Download

Capture One

Introducing the moodcase plug-in for Capture One, which allows you to upload photos directly into a project on moodcase. This eliminates the need to export and upload manually.

Download

further integrations

What would be an important integration for you? Let us know. We are constantly developing.